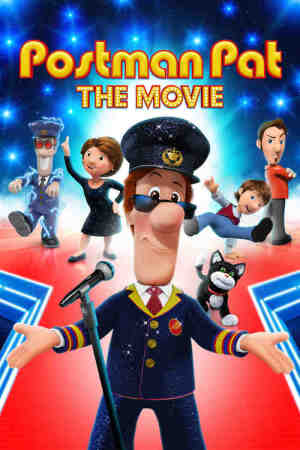 Postman Pat: The Movie
Postman Pat: The Movie
Like always, Postman Pat is happily going about his duty delivering letters and parcels around the fictional town of Greendale. One day, auditions for the TV talent show, "You're the One", are held in Greendale, which Pat manages to pass. With Pat required to be away from Greendale whilst participating in the contest, various Patbot 3000 robots are deployed to take Pat's postal duties. This soon turns out to be an evil plot to take over the world, which Pat must now stop.
Genres: Animation, Comedy, Family
Actors: Stephen Mangan, Jim Broadbent, Rupert Grint, David Tennant, Ronan Keating, Susan Duerden, Sandra Teles, Peter Woodward, Robin Atkin Downes, Brian George, Parminder Nagra, Jo Wyatt, Enn Reitel, Jane Carr, Dan Hildebrand, Darren Richardson, Jacob Witkin, Jean Gilpin, Anastasia Griffin, Laura Solon, Olivia Poulet, Aimee Osbourne, Becky Wright, Steven Kynman, Teresa Gallagher, Charlie Woodward, Kieron Elliott, Mike Disa, Chris Evans, Craig Ferguson, Robert Anich, Adam Smyth, Lucy Davis, Kelly Beckett, Julian Stone, Dee Bradley Baker, Tony Curran, Greg Ellis
Directors:
Writers: Annika Bluhm, Kim Fuller, Nicole Dubuc
Countries: United Kingdom
Release: 2014-05-23
N-7
Distribution countries:



Duration: 88 Min.
Quality: FHD
Language:


4.7